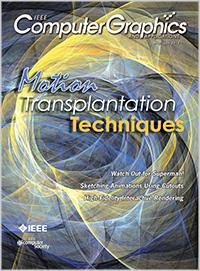 Interview of artist Sipo Liimatainen in IEEE Computer Graphics and Applications magazine May-June 2012 (vol. 32 no. 3).

Story by Gary Sighn
Magazine cover image "Delightful mood of abstracted mind" by Artist Sipo Liimatainen

Reflecting the Prism of His Life

This installment looks at the work of Sipo Liimatainen, who creates art based on digital imagery.

About the Cover
Reflecting the Prism of His Life
Gary Singh

Were Sipo Liimatainen an inanimate object, he'd be a prism. Or so he says. From the darkness of his persona, an entire spectrum of light emerges.
That is, the colors of his personality rest on a lap of darkness. Filtered through his brain and the software, the colors explode into vibrant, searching works.
An apparent philosophy of color theory, vibration, and frequency is latent in his work...

Read full interview...